Go therefore and make disciples of all nations
We believe that Missions is the heart of the Father, therefore we place a great emphasis on supporting God's work abroad by both sending short-term Mission Teams and supporting the local Churches and Missionaries in foreign lands.
Calvary Chapel
Managua, Nicaragua
Providing God's Word to families in need and a school with grades K-6 to reach out to the kids in the neighborhood.
Calvary Chapel Phnom Penh -
Water of Life Cambodia
Water of Life Bible School is a Bible college that's goal is to grow and equip Christians, aspiring church leaders, and pastors in Cambodia to have a solid understanding of the Bible so they can be effective ministers in their communities. At the Bible School, we strive to teach the students the value of God's Word and how to practically use it in everyday Christian life. Our mission is to lift up the arms up of our brothers and sisters in Cambodia in their ministries and to be a source of encouragement.
Inspired Missions - Cambodia
Pastor Training
Curtis and Breann were married in 2013 and immediately began their life's journey together as missionaries in Phnom Penh, Cambodia.

Mission Statement: Through God's grace we long to see the transformation of Cambodia, through the building up of local churches and providing resources and training local pastors and Christians.
Forerunner Missions (Sam & Andy) – Cambodia
Andy and Samantha Wagers are missionaries living in Cambodia with their two children. Andy teaches the Bible in a small church plant he began in the village of Kien Svay. He also is a Fire Safety and First Aid Instructor that teaches local business and NGOs. Samantha is the Co-Founder of Academy of Careers and Tourism where she teaches and trains young people vocational training.
Mercy Village Cambodia
Pastor Rin
Pastor Rin is a missionary in Phnom Penh, Cambodia, where he shares the name of Jesus to poverty stricken families through the teaching of His word, care, and love.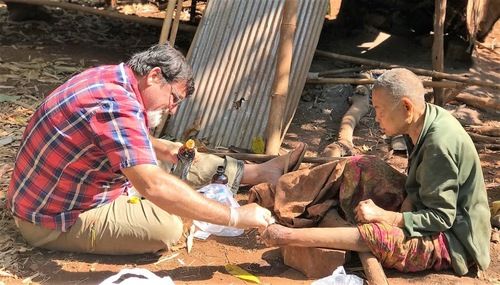 Mordegai Rossouw
Remote Villages of Cambodia
Mordegai is a doctor that helps those in the remote villages of Cambodia.
Pastor Jose and Sarah have a thriving ministry and church in India.
Disciple Support Ministries
Almost two decades ago, Disciple Support Ministries was founded by Paul and Marcia Cowley with a call to minister in the heart of Africa. Since their move to East Africa in 2002, the Lord has blessed them with three children (Isaac, Joshua, and Alegria).

Today the ministry has grown to operate two Bible Schools directly inside the two largest slums of Nairobi, Kenya. One in Kibera slum….the single largest slum in Africa, with over 1,000,000 residents. The other in the Mathare Valley slum….with over 500,000 residents. The Schools are strategically located on opposite sides of the city, in the two largest and most easily accessible slum areas.
Far Reaching Ministries (FRM) and Far Reaching Ministries Aviation (FRMA) continue to focus on providing discipleship, followed by providing humanitarian resources relief. This includes providing education to the poor and persecuted people in various nations throughout the world. FRM's mission is to carry the Gospel of Jesus Christ to the lost and dying of the world, with discipleship as the primary vehicle. Together, FRM and FRMA accomplishes this through evangelism, addressing audiences of all sizes (from evangelical crusades to one-on-one relationships), planting and establishing churches, as well as the founding Bible schools.
Serve the Kingdom on our upcoming mission trip [TBA]
Cambodia, India, Nicaragua - these are all places the Lord has sent us. Where will God send us next?Who will he send? Stay tuned for upcoming announcements.

For "everyone who calls on the name of the Lord will be saved."
How then will they call on him in whom they have not believed?
And how are they to believe in him of whom they have never heard?
And how are they to hear without someone preaching?
Romans 10:13-14